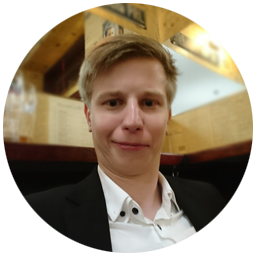 Mateusz began his adventure with organic electronics during the second semester of engineering studies when he started his volunteering at the Department of Molecular Physics. Thanks to an exceptional knowledge and developed practical skills, he managed to master many thin-film preparation techniques. Moreover, he acquainted with numerously measuring apparatus for semiconductor thin films as well as organic field effect transistors.
Mateusz defended his engineering thesis with the highest possible mark. His diploma work concerned the use of zone casting technique for the production of thin layers of carbazole derivatives as active layers in organic field effect transistors.
In the Self-Flex-App project, Mateusz is in charge of preparation blends of semiconductor – polymer which exhibit spontaneous phase separation supported by directional deposition. Furthermore due to additional skills of him, for the needs of the project, he often deals with 3D modeling, graphic design and also improvement/maintenance of devices used for research purposes.
Mateusz considers himself as a tech geek. He loves programming, graphic design and DIY projects. In his free time, he relaxing hitting cross-country and downhill bike trails.